DREAMS FOCUSED; IDEAS MADE TANGIBLE
Polymaths Provide Unique Solutions
What is a polymath?
Polymath: A person of great learning, whose expertise spans a significant number of different fields. Such a person draws on complex bodies of knowledge to solve specific problems.
Kai Herd and Michael Masumoto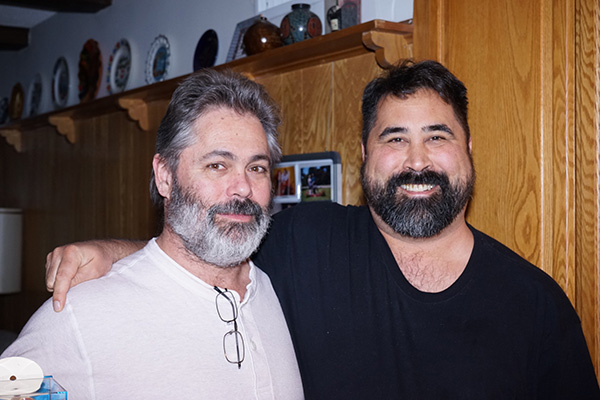 Michael Masumoto is a writer, filmmaker, artist/graphic designer, performer, composer, web programmer, producer, and online education pioneer. Kai Herd is an art furniture maker and embedded systems programmer.
Masumoto Herd operates two workshops in Sonoma County, CA: one for digital/multimedia production and recording; the second for physical fabrication of fine furniture, theatrical sets and wood/glass properties, doubling as a small greenscreen studio facility.
As a University professor and consultant, Michael Masumoto helped innumerable businesses and individuals bring their ideas and vision to the Internet: analysis, training, branding, messaging, graphic design, and all phases of physical and virtual pre-production and production. In partnership with Kai Herd, Michael has branched into high-end physical fabrication and video production services.
Kai Herd, a Master furniture maker, graduated from the James Krenov-founded College of the Redwoods Fine Furniture program in Fort Bragg, CA, which is widely regarded as the best woodworking program in the world. Prior to that, Kai spent 20 years programming embedded systems, first in the green energy sector (windmills), then for the telecommunications industry.
PROUDLY LGBT
Michael and Kai were legally married on October 10, 2008, just before the passage of California's Proposition 8. They have been a committed couple since 1996. Both men identify as bisexual.
Michael and Kai are the godfathers of three children, a boy and two girls: Milo Trujillo (currently an undergraduate at Rensellaer Polytechnic Institute), Zinnia Thewlis, and Eleven Thewlis.
MORE ABOUT MICHAEL
For more about Michael Masumoto, please visit the Personal Space area on his old website.
Last Updated: June 22, 2016
COPYRIGHT © 2010-2016 MICHAEL MASUMOTO