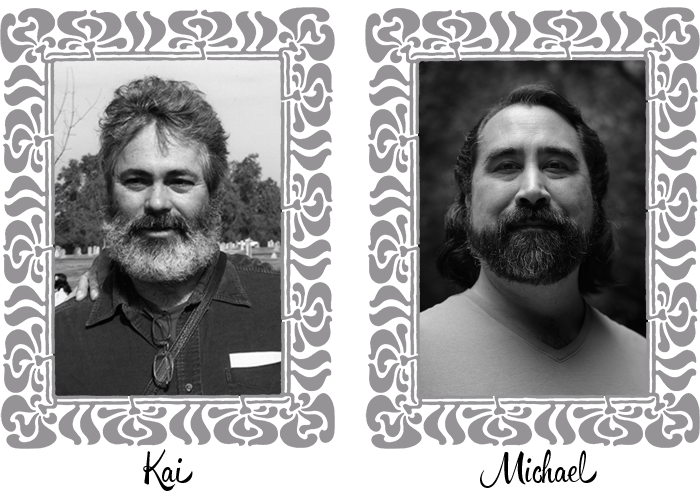 WELCOME, FRIENDS!
Michael Masumoto and Kai Herd have created many beautiful and award-winning projects, both physical and digital. Our website presents a representative sampling of this work.
MASUMOTO HERD: Reclaiming Craft for Art since 2010!
OUR LATEST ART FURNITURE WINNER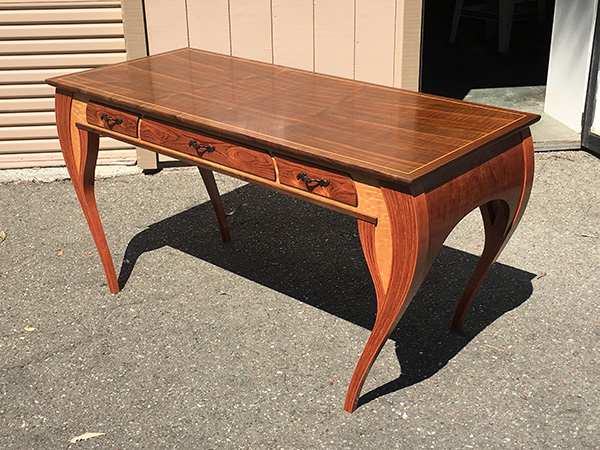 Smoke - 1st Prize - Contemporary Furniture, Design in Wood 2017, San Diego
Smoke (Desk) was exhibited at the Sonoma County Museum in Fall 2016. We spent a few extra months completing Smoke's finish work, then took it to Design in Wood in San Diego (one of the most important Art Furniture shows in the United States). Much to our delight, it took 1st Prize in the most competitive division at the show!
Once we've taken Smoke's "official" portraits, we'll post them here.
THE MASUMOTO HERD STYLE
Eccentric, Beautiful, Professional. Masumoto Herd means Fine Craftsmanship. Many companies mouth empty platitudes about craftsmanship until that word has come to mean nothing. At Masumoto Herd, we embody Craft; and we have the awards to prove it!
As commercial Artists, our style is flexible, to suit the needs of the customer. However, Michael's output does have a certain timeless flair which is highly individual. The following videos should give you a taste of the unique Masumoto Herd vision.
If you like, there is much more to see. Use the navigation strip above; we've made many exhibits for you to experience! You can also subscribe to our YouTube channel, http://www.youtube.com/glofau/. Thanks!
MICHAEL MASUMOTO'S PORTFOLIO (2016)
(2016; HD; 2 min 31 sec)
For more information about Michael's commercial branding and messaging approach, experience and philosophy, please visit the Graphic Design subsection. For more about his commercial work in general, please visit our Portfolio section.
MICHAEL MASUMOTO'S PORTFOLIO PART 2
*NEW* (2017; HD; 3 min 47 sec)
This portfolio video provides an overview of Michael's projects completed 2016-2017, including photos of Smoke, 1st Prize winner at Design in Wood 2017, San Diego.
MASTERING CUSTARD (2017)
*NEW* (2017; HD; 40 min 31 sec)
Mastering Custard is Michael's new educational film, demonstrating his proficiency both as a filmmaker and as an educator.
MASUMOTO HERD ART FURNITURE: INTRODUCTION
(2014; HD; 6 min 54 sec)
A humorous, musical look at Masumoto Herd and the Fantasium. For more information, please visit our Art Furniture section.
FANTASIUM: ORIGINS
(2014; HD; 9 min 35 sec)
A musical tour of the inspiration behind our Fantasium.
Michael is extremely proud of his score for this film and considers it one of his finest pieces of work.
PIANO SONATA IN A MINOR
(2016; HD; 14 min 38 sec)
For more information about this composition, please visit Michael's Piano Sonata page. Sheet music is available for purchase; please contact Michael via the Contact Us page. For more about Michael's compositions, please visit our Music section.
ORCHESTRAL SAMPLER SUITE
(2016; HD; 3 min 37 sec)
Michael composed and orchestrated a few pieces to demonstrate his skill. For more information about this composition, please visit the Orchestral Sampler Suite page.
MASCULINITY (2015)
(2015; HD; 8 min 8 sec)
As seen at the California State Fair Fine Arts Exhibition!
Featuring Sergey Prokofiev's Romeo and Juliet, op.75, no.10, performed by Michael Masumoto.
Summary: When Butch is dumped by his girlfriend, Frou Frou, because he isn't manly enough, he embarks on a perilous journey of self-improvement. Musical Comedy-Drama.
More Masumoto Herd films can be viewed in our Video Production area, or on our YouTube channel, http://www.youtube.com/glofau/.
RECLAIMING CRAFT FOR ART
AN ESSAY BY MICHAEL MASUMOTO
When I was 11 years old, my family visited Washington DC. Of course, that was 1975; everything was "Being Renovated for the Bicentennial." That phrase became a family joke. We spent most of our time looking at paint tarps and scaffolding!
But on that trip, I had an Arts experience that I'll never forget. We visited a small, regional museum in Virginia. One of their contemporary artworks was a framed piece of paper with a pencil line ruled across the top; stuck on this pencil line were a few scraps of masking tape, neatly aligned. That was it. No explanation, no context. I was stunned. All I could think was, "This is Art?"
I grew up in Fresno, which had (and still has) a very active Arts community. Fresno may be known as the Raisin Capitol but it's also the home of Duncan Ceramics; the town is filled with potters and sculptors and painters. My Mother is an Art lover; any time my family traveled, we visited museums. As a boy in school, I was a big nerd, but in terms of contemporary Art, I was sophisticated.
Over the years, that masking tape work I'd seen in Virginia came to represent a low-water-mark in Art for me. When I visited other museums and saw works that I hated, I'd ask, "Is this more of a waste of time than that stupid masking tape thing?"
What really upsets me is how often artworks created in the past 50 years make me ask myself that question. Every era throughout History has created its share of crap, but I believe that the Modern era has generated more than its fair share.
Unlike some, I do not want to chuck everything Modern and return exclusively to romantic photorealism; that reactionary movement makes me a little nauseated. But I do hate going to museums and being confronted with ugly, poorly-made works.
Because of that, when Kai and I started Masumoto Herd, we decided to differentiate ourselves through our dedication to Craft; we wanted to make beautiful things really, really well! If we were going to put our hearts and souls into Works of Art, we had to believe in them. Thus, our motto: "Reclaiming Craft for Art."
And we do believe in our projects. It doesn't matter if a project is Fine Art or Commercial Art; every piece is for sale, so they're all commercial anyway. What matters to us is that we be given the opportunity to do our best.
I sometimes think that Kai and I were crazy to pick up the Sword of Craftsmanship to fight our way against the omni-present ghost of Marcel Duchamp and that damned Fountain of his. Championing Craft, we can not produce a large volume of artwork because we make most of them with extreme care. But we can't live with ourselves if we just toss junk together.
I think our perfectionism is exactly what you need to create both Fine Art masterpieces and top-notch commercial artwork, branding and advertisements. We're proud of them all!
MEET THE ARTISTS
Michael Masumoto is a writer, filmmaker, artist/graphic designer, performer, composer, web programmer, producer, and online education pioneer. Kai Herd is an art furniture maker and embedded systems programmer.
Masumoto Herd operates two workshops in Sonoma County, CA: one for digital/multimedia production and recording; the second for physical fabrication of fine furniture, theatrical sets and wood/glass properties, doubling as a small greenscreen studio facility.
As a University professor and consultant, Michael Masumoto helped innumerable businesses and individuals bring their ideas and vision to the Internet: analysis, training, branding, messaging, graphic design, and all phases of physical and virtual pre-production and production. In partnership with Kai Herd, Michael has branched into high-end physical fabrication and video production services.
Kai Herd, a Master furniture maker, graduated from the James Krenov-founded College of the Redwoods Fine Furniture program in Fort Bragg, CA, which is widely regarded as the best woodworking program in the world. Prior to that, Kai spent 20 years programming embedded systems, first in the green energy sector (windmills), then for the telecommunications industry.
For more information, visit our About Us page. Thanks!
Last Updated: September 19, 2017
COPYRIGHT © 2010-2017 MICHAEL MASUMOTO