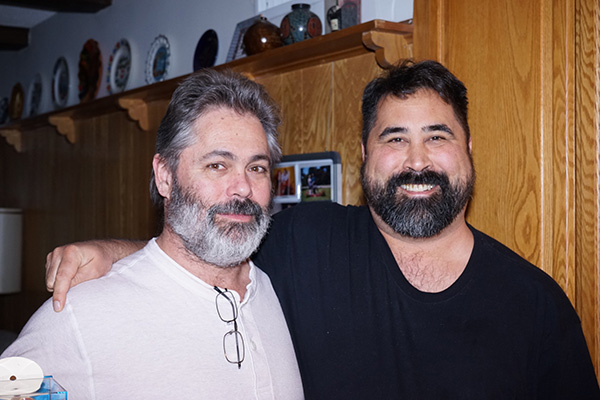 KAI AND MICHAEL WELCOME YOU!
Michael Masumoto and Kai Herd have created many beautiful and award-winning projects, both physical and digital. Our website presents a representative sampling of this work, with writeups to provide context.
Think of our site as a mini-museum, showcasing terrific examples of contemporary Multimedia Art, Craft and Design... unless you don't happen to like museums. In that case, pretend we're the Exploratorium for adults. We aim to please.
ADD FINE ART FLAIR TO YOUR BUSINESS
Michael and Kai are Fine Artists; they're also Commercial Artists. They make Art for Art's Sake; they also make Art for businesses: logos, promotional materials, advertising, videos. They're craftsmen; they like to do both. They see distinctions made between Fine Art and Commercial Art as Artificial and Ridiculous, a cocked-up marketing gimmick. A properly made Logo can be just as meaningful as an iconic Painting, if well crafted.
Michael and Kai have already made the Fantasium, an award-winning Use Object and acknowledged Artistic Masterpiece. Let them craft a masterpiece for you, too!
MASUMOTO HERD: Reclaiming Craft for Art since 2010!
WHY DOES YOUR BUSINESS NEED MULTIMEDIA SERVICES?
With the rise of the internet and social media, video content for businesses has grown exponentially more important. Video is not just for TV ads anymore. Thanks to smartphones, short videos of every possible type are distributed constantly, a daily part of life. To develop and promote your business, you need some of those videos to be yours!
Private individuals can get away with pointing a smartphone at themselves (or their pet) and posting that unedited footage on YouTube; businesses need higher production values. YouTube content creators grow daily more sophisticated about production standards, setting the bar higher and higher each year. The cost of pro-level equipment has decreased markedly, but you need more knowledge than ever to use that equipment effectively. And you are expected to have impressive motion graphics, some special effects, even original music, as well. Unless you are an enthusiast yourself, hiring a team to produce videos can be dauntingly expensive. That's where Masumoto Herd can help.
ALL-IN-ONE SERVICE SAVES YOU MONEY
Michael and Kai are Commercial Artists who are also award-winning Fine Artists and Craftsmen; they possess deep technical knowledge across a broad range of subjects uniquely suited to web-and-application-delivered video content.
In addition to filmmaking, graphic design, representational painting, 3D simulation, and photography skills, Michael has years of advertising, educational and technical writing experience for works delivered via the internet. Kai can build or fabricate a wide range of exquisite sets and properties. If digital interactivity is required, both Michael and Kai are experienced programmers. Michael is also a Conservatory-trained composer and performer with an approachable style perfectly suited to elevating the tone of your brand. Michael and Kai can deliver upscale, beautiful work at every stage from pre-through-post-production.
Small-to-medium sized businesses can benefit enormously, just by commissioning a short introduction or title sequence to give their videos a touch-of-class. Or hire Masumoto Herd for an entire promotional campaign.
THE MASUMOTO HERD STYLE
Eccentric, Beautiful, Professional. Masumoto Herd means Fine Craftsmanship. Many companies mouth empty platitudes about craftsmanship until that word has come to mean nothing. At Masumoto Herd, we embody Craft; and we have the awards to prove it!
As commercial Artists, our style is flexible, to suit the needs of the customer. However, Michael's output does have a certain timeless flair which is highly individual. The following videos should give you a taste of the unique Masumoto Herd vision.
If you like, there is much more to see. Use the navigation strip above; we've made many exhibits for you to experience! You can also subscribe to our YouTube channel, http://www.youtube.com/glofau/. Thanks!
MICHAEL MASUMOTO'S PORTFOLIO (2016)
NEW! (2016; HD; 2 min 31 sec)
For more information about Michael's commercial branding and messaging approach, experience and philosophy, please visit the Graphic Design subsection. For more about his commercial work in general, please visit our Portfolio section.
MASUMOTO HERD ART FURNITURE: INTRODUCTION
(2014; HD; 6 min 54 sec)
A humorous, musical look at Masumoto Herd and the Fantasium. For more information, please visit our Art Furniture section.
PIANO SONATA IN A MINOR
NEW! (2016; HD; 14 min 38 sec)
For more information about this composition, please visit Michael's Piano Sonata page. Sheet music will be available for purchase on Amazon soon! For more about Michael's compositions, please visit our Music section.
MASCULINITY (2015)
(2015; HD; 8 min 8 sec)
As seen at the California State Fair Fine Arts Exhibition!
Featuring Sergey Prokofiev's Romeo and Juliet, op.75, no.10, performed by Michael Masumoto.
Summary: When Butch is dumped by his girlfriend, Frou Frou, because he isn't manly enough, he embarks on a perilous journey of self-improvement. Musical Comedy-Drama.
More Masumoto Herd films can be viewed in our Video Production area, or on our YouTube channel, http://www.youtube.com/glofau/.
RECLAIMING CRAFT FOR ART
AN ESSAY BY MICHAEL MASUMOTO
When I was 11 years old, my family visited Washington DC. Of course, that was 1975; everything was "Being Renovated for the Bicentennial." That phrase became a family joke. We spent most of our time looking at paint tarps and scaffolding!
But on that trip, I had an Arts experience that I'll never forget. We visited a small, regional museum in Virginia. One of their contemporary artworks was a framed piece of paper with a pencil line ruled across the top; stuck on this pencil line were a few scraps of masking tape, neatly aligned. That was it. No explanation, no context. I was stunned. All I could think was, "This is Art?"
I grew up in Fresno, which had (and still has) a very active Arts community. Fresno may be known as the Raisin Capitol but it's also the home of Duncan Ceramics; the town is filled with potters and sculptors and painters. My Mother is an Art lover; any time my family traveled, we visited museums. As a boy in school, I was a big nerd, but in terms of contemporary Art, I was sophisticated.
Over the years, that masking tape work I'd seen in Virginia came to represent a low-water-mark in Art for me. When I visited other museums and saw works that I hated, I'd ask, "Is this more of a waste of time than that stupid masking tape thing?"
What really upsets me is how often artworks created in the past 50 years make me ask myself that question. Every era throughout History has created its share of crap, but I believe that the Modern era has generated more than its fair share.
Unlike some, I do not want to chuck everything Modern and return exclusively to romantic photorealism; that reactionary movement makes me a little nauseated. But I do hate going to museums and being confronted with ugly, poorly-made works.
Because of that, when Kai and I started Masumoto Herd, we decided to differentiate ourselves through our dedication to Craft; we wanted to make beautiful things really, really well! If we were going to put our hearts and souls into Works of Art, we had to believe in them. Thus, our motto: "Reclaiming Craft for Art."
And we do believe in our projects, whatever we take on, or we don't do them. It doesn't matter if the project is Fine Art or Commercial Art. Every piece is for sale, so they're all commercial anyway. What matters to us is that we be given the opportunity to do our best.
Just because something's beautifully-made doesn't mean that it's interesting. But a good idea is cheapened by shoddy execution.
Just look at my film, Masculinity, above. I had only four weeks from start to finish; no time to build a set! And only three days with my leading lady; no time for rehearsal! I love it anyway; it works as a wonky Underground film and was well-received at the California State Fair Fine Arts Exhibition. I learned a lot. But the concept deserved better execution.
Our major works of Art had to be elevated through superior craftsmanship. The Fantasium may never make back its extreme cost, but it's been acknowledged as a Masterpiece. That means a great deal to an Artist.
Yet, that wasn't enough for me. Art should not be merely a narcississtic extension of one's own vision. The great challenges are the collaborative ones, from helping a client crystallize their essence in a promotional piece to assembling a grand film or entertainment project. Each work teaches me something valuable and exciting, enlarging my creative scope. I am happiest when blessed with variety.
The problem with Craft is that it takes time. Kai and I make things with loving care and commitment. One of the things I liked about commercial advertising work was that clients expected excellent quality and were willing to pay for it. I think Fine Art should move back in that direction, too.
Today's Fine Art world suffers from a touch of The Emperor's New Clothes. Nobody wants to say that the latest "Brilliant Concept" work is just a piece of unappealing junk in case it turns out to be the next Fountain or Piss Christ. But someone's got to take a stand or there will be no future for Legitimate Art; too many people see Art today as irrelevant because so much of it is incomprehensible. Kai and I have taken a stand for Beauty and Aesthetic Value. Art can not be universally inclusive; value judgments must be made!
I sometimes think that Kai and I were crazy to pick up the Sword of Craftsmanship to fight our way against the omni-present ghost of Marcel Duchamp and that damned Fountain of his. Championing Craft, we simply can not produce a large volume of artworks because we make most of them with extreme care. But we can't live with ourselves if we just toss junk together. Even Masculinity, for all its compromises, was no hack job; it was an ambitious labor of love on a too-short deadline. We can't help who we are and what we believe!
I think our practical attitude is exactly what you need to create both Fine Art masterpieces and top-notch commercial artwork, branding and advertisements. Why shouldn't we be proud of them all?
MEET THE ARTISTS
Michael Masumoto is a writer, filmmaker, artist/graphic designer, performer, composer, web programmer, producer, and online education pioneer. Kai Herd is an art furniture maker and embedded systems programmer.
Masumoto Herd operates two workshops in Sonoma County, CA: one for digital/multimedia production and recording; the second for physical fabrication of fine furniture, theatrical sets and wood/glass properties, doubling as a small greenscreen studio facility.
As a University professor and consultant, Michael Masumoto helped innumerable businesses and individuals bring their ideas and vision to the Internet: analysis, training, branding, messaging, graphic design, and all phases of physical and virtual pre-production and production. In partnership with Kai Herd, Michael has branched into high-end physical fabrication and video production services.
Kai Herd, a Master furniture maker, graduated from the James Krenov-founded College of the Redwoods Fine Furniture program in Fort Bragg, CA, which is widely regarded as the best woodworking program in the world. Prior to that, Kai spent 20 years programming embedded systems, first in the green energy sector (windmills), then for the telecommunications industry.
For more information, visit our About Us page. Thanks!
Last Updated: June 23, 2016
COPYRIGHT © 2010-2016 MICHAEL MASUMOTO