Masumoto Herd Web Logo (2016)
BRAND: A brand defines essential, intangible aspects of a company.
The essence of the Masumoto Herd brand: craftsmanship, beauty, eccentricity, professionalism. Whether the medium is physical or digital, Masumoto Herd stands for careful, meticulous handwork, the human touch.
Defining a brand both restricts and liberates a business. One can not be all things to all people, unfortunately. One must take some kind of stand, for good or ill, or a brand will represent nothing and be useless. Once those decisions are made, however, a brand helps bring your company into focus; it helps you remember who you are and what you represent so that you can project a consistent image across all media. Consistency helps inspire trust, which is what every business needs in order to be successful.
LOGO: A properly made logo is a vital part of overall company messaging. A logo contains non-verbal cues about who you are and what you represent that subtly impacts your company's image and overall public perception.
The 2016 Masumoto Herd Logo has a dynamic, friendly quality which Kai and I chose deliberately. The original Masumoto Herd logo was too severe:

Masumoto Herd Logo (2010)
When Kai and I first opened Masumoto Herd, we consulted an Arts business expert who suggested that we give our logo a feeling of obscurity and mystery - reflected in my design of a stylish cypher - to make our business seem more exclusive. In retrospect, I believe this logo represented a missed opportunity as well as being a trifle disingenuous. We needed to project a message that was a better fit for us; hence, the logo redesign.
MESSAGE: Once you define specific core intangibles about your brand, it's easier to see what's right or wrong for your business; you understand, in concrete terms, what your brand stands for. These intangibles provide a natural center from which everything can flow. Does X relate to my brand? If you know exactly what your brand is, you can tell whether X relates to it or not. More importantly, your TEAM can determine if X relates to your brand and make rational decisions. This allows you to create consistent messaging across everything you produce. Consistent messaging (in combination with good products and/or services targeted at your core customer base, obviously) gives your brand an integrity that people will respect. Over time, consistency and integrity inspire trust. And that's what you want: a brand that your customers know that they can trust.
Commercial graphic design has to express these intangible essentials about the nature of your brand and your business... and what your business aspires to become.
EXAMPLE #2: MASTODON ROCK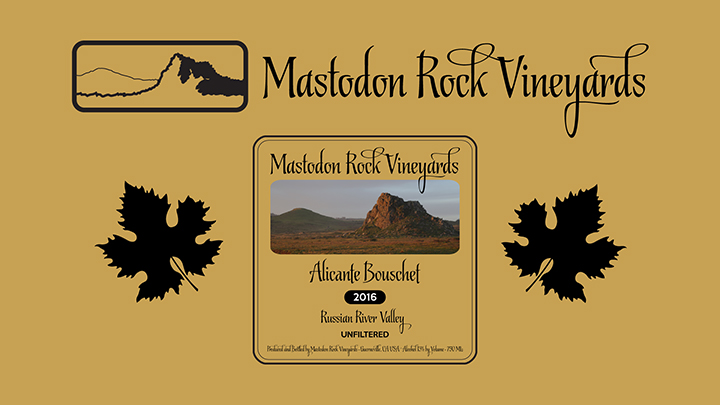 Mastodon Rock Vineyards Logo and Label (2016)
Here, I've created an imaginary small business, "Mastodon Rock Vineyards."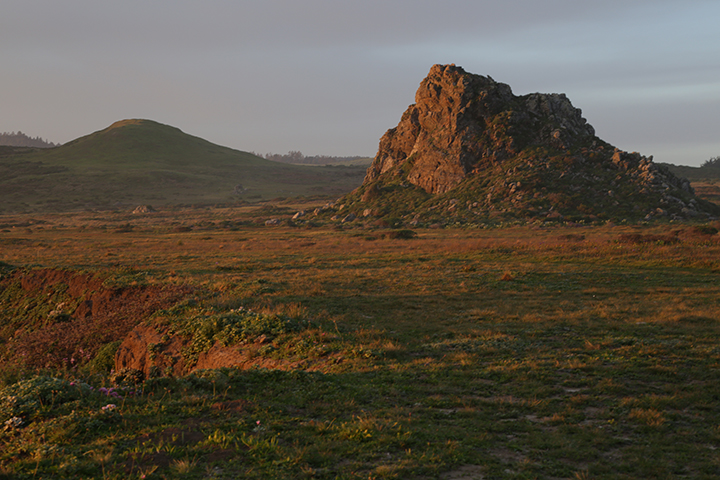 Mastodon Rock (2016)
Here is my photograph of a real location in California's state park system. It is, in fact, just outside Sonoma County's wine country, near the mouth of the Russian River.
For the wine label, I chose to go with a more expensive, full-color photographic image, the picture was so appealing. Were my clients to ask for a lower-cost, single-color option (common with wines to be cellared), the black-and-white logo could be switched in easily.
Mastodon Rock Vineyards Ad (2016)
I created a sample advertisement to show my approach to the look of the Mastodon Rock promotional materials. This sample is not a photo, it's a piece of digital art I created using Blender 2.77a, an open-source 3D modeling and rendering package. The wine glasses are copies I made of Schott Zwiesel Tritan Cru glasses, which the Wall Street Journal ranked very highly. I modeled, composed and lit everything in this picture.
EXAMPLE #3: REAL WORLD LOGOS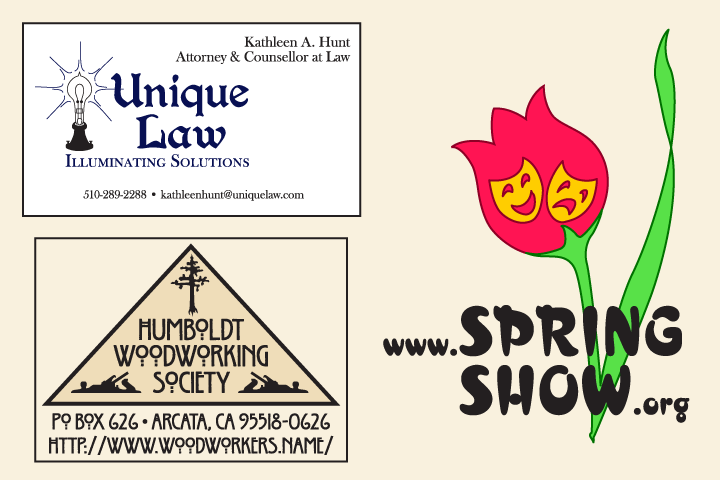 Real World Logos Set #1 (2016)
My Unique Law branding has been a winner for attorney Kathleen Hunt. She was drawn to Victorian-era styles, so I developed this retro-professional feel for her. It implies outside-the-box thinking and quirkiness combined with a comfortable sense of tradition and solidity, which is the essence of both her and her practice, in my opinion. Her old-style printed business cards on beautiful cardstock with that Edison Lightbulb logo receive consistent praise from clients, she informs me. I'm thrilled that her business has grown so successfully, but I was just supporting the excellence of her work.
I was on the Board of Directors for the Humboldt Woodworking Society several years ago. We were suddenly running the largest woodworking show on the North Coast, so our group desperately needed a more professional look for the upcoming media push. The Arts-and-Crafts era is deeply embedded in the psyche of the Northern California woodworking community. I drew the hand plane logos (the locally-recognized trademark of the organization) from a still-in-service 19th century tool in the possession of one of my husband's colleagues. The show was a big success. And, since the introduction of this logo, the group has more consistently attracted the participation of local professionals, which was the intended goal.
The Spring Show was a proposed North Coast Musical Theater organization which never materialized. However, my logo was universally admired.
The Spring Show logo says Spring, Fun, Theater! From this remove, I really love the subtlety of the "singing" tulip. The lack of obviousness differentiates this logo from those of most community musical organizations, which usually have a string of musical notes coming out of whatever. The clean, crisp design says, "Professional but Not Stuffy." I would never have overlapped the image and text for a corporate logo, but, for this particular arts non-profit, I think the layout contributes to the core message of fun unconventionality designed to appeal to the region's Bohemian theatrical base.
EXAMPLE #4: HAPPY MILK
Happy Milk Ad (2016)
Happy Milk is an imaginary product whose ad is another work of digital art I made using Blender 2.77a. This picture is NOT a photograph. Even the milk froth is a painting that I applied to the inside of the fake bottle!
OK, so this ad is not in the best of taste. Honestly, I came up with the idea and burst out laughing. Sex sells, right? But this absurd campaign does accurately reflect the goofy/sophisticated nature of my sense of humor, both sweet and sarcastic. This approach might sell milk to a sophisticated niche market. Science fiction fans, gay men, computer nerds. My people! You would have to sell "Cream," too. Such a great mixer for Kahlua cocktails!
I believe that the essence of the campaign would be feigned cluelessness, as if we did not entirely understand what we were suggesting. How wholesome this product is, how morally upright! An essential part of a balanced breakfast! The faintest whiff of blatantness, and the campaign would disintegrate. Some people wouldn't appreciate it... my mother rolled her eyes and said dryly, "How tasteful." But I know people who would definitely buy this product.
ABOUT THE ARTIST
For six years, MICHAEL MASUMOTO was the principal professor of Web Programming and Design at San Francisco State University's Multimedia Studies Program, at that time the #1 multimedia program in the world. He has helped a multitude of companies, large and small, to focus their web presence, branding and company messaging.
Michael was an online education pioneer, producing and/or writing many technical training courses. He also produced, wrote and programmed the first interactive talking children's book for the Web, the award-winning "Boogers and Boogeymen."
In 2010, Michael founded a high-end art furniture workshop in partnership with his husband, Kai Herd. Their work has won top prizes in competitions throughout California. They have recently expanded into video production services.
Michael holds a Master's degree in Music Composition from the San Francisco Conservatory of Music. He has composed and produced six operas (among other works), and has recently completed his first piano sonata. Michael also holds a BA in Comparative Literature from the University of California, Berkeley.
Additional Artworks
Michael works in a variety of media, both physical and digital. Click the links below to see additional samples of his work.
Commercial Graphic Design
For more about Michael's musical work, please visit the Music section of this website. For more about Michael's movie and motion graphics work, please visit the Video Production section of this website. And, of course, for more about Michael and Kai's physical multimedia projects, please visit our Art Furniture section. Thanks!
Last Updated: September 20, 2017
COPYRIGHT © 2010-2017 MICHAEL MASUMOTO