MICHAEL MASUMOTO'S ARCHITECTURAL VISUALIZATION
* UNDER CONSTRUCTION *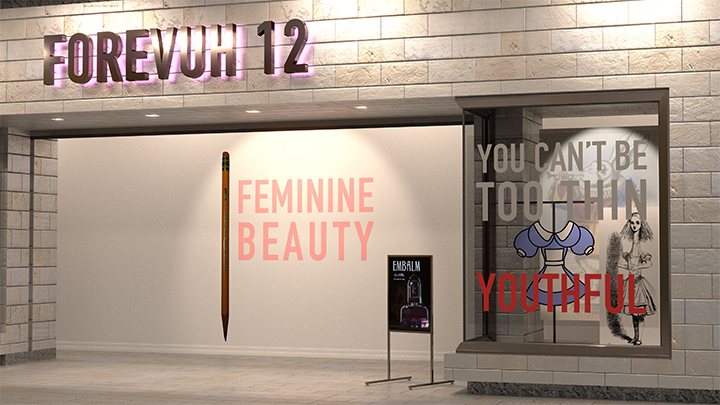 STOREFRONT FROM BILLINA'S BAD DATES (2016)
This image is from my upcoming animated comedy short, "Billina's Bad Dates." The scene is relatively bare to accommodate a puppet on the left. This set is a parody of clothing storefronts, crossing Abercrombie & Fitch with Forever 21.
Using photographic references, I modeled, textured and lit the architecture of a real storefront at the Santa Rosa Plaza mall, including all the display window and security gate details. I approximated the look and feel of their window advertising and signage with sarcastic messaging. I copied a commercial molding profile to create my model of the baseboard. I modeled their stainless steel sign holders. I designed the dress in the shop window, an homage to Alice in Wonderland's pinafore. The dress proportions are odd because it's a costume for one of the puppets, a puppet that resembles the giant pencil in the "Feminine Beauty" ad, center. The Embalm perfume ad is also all my work, including the bottle inspired by a Victorian gravestone. I even modeled a drop ceiling filled with fluorescent light tube fixtures to provide realistic lighting. The only things that aren't my work are the Tenniel "Alice" illustrations in the shop window.
NOTE FROM MICHAEL
I'm in the process of developing an architectural visualization (ArchViz) portfolio. Towards that end, I've enrolled in Andrew Price's online Architecture course at blenderguru.com. Over the next few months, I'll be posting work from that class here, to share my progress with teachers, classmates and the larger Blender community.
Click links below to see examples of my early ArchViz work.
Module 2
Module 3
Module 4
Module 5
Module 6
Module 7
Module 8
Module 9
Module 10
Module 11
Module 12
ABOUT THE ARTIST
For six years, MICHAEL MASUMOTO was the principal professor of Web Programming and Design at San Francisco State University's Multimedia Studies Program, at that time the #1 multimedia program in the world. He has helped a multitude of companies, large and small, to focus their web presence, branding and company messaging.
Michael was an online education pioneer, producing and/or writing many technical training courses. He also produced, wrote and programmed the first interactive talking children's book for the Web, the award-winning "Boogers and Boogeymen."
In 2010, Michael founded a high-end art furniture workshop in partnership with his husband, Kai Herd. Their work has won top prizes in competitions throughout California. They have recently expanded into video production services.
Michael holds a Master's degree in Music Composition from the San Francisco Conservatory of Music. He has composed and produced six operas (among other works), and has recently completed his first piano sonata. Michael also holds a BA in Comparative Literature from the University of California, Berkeley.
Additional Artworks
Michael works in a variety of media, both physical and digital. Click the links below to see additional samples of his work.
Architectural Visualiation
For more about Michael's musical work, please visit the Music section of this website. For more about Michael's movie and motion graphics work, please visit the Video Production section of this website. And, of course, for more about Michael and Kai's physical multimedia projects, please visit our Art Furniture section. Thanks!
Last Updated: June 15, 2016
COPYRIGHT © 2010-2016 MICHAEL MASUMOTO